Welcome!
Welcome to Promotions by Design - offering projects that deliver!



If you can imagine it, we can do it! Our goal is to be your partner in developing effective advertising and marketing programs using promotional products and paper printed material. We know anyone can order a product for you, but at Promotions by Design, we "design" programs to fit each of our individual clients' needs. With our graphic designing ability we can create custom artwork for events, create new logos or revise an existing one to be placed on any of our thousands of promotional products. In addition we can design your company's brochures, direct mail flyers or newspaper advertisements. Our list of clients include non-profit organizations, health care facilities, school events and fundraisers, financial institutions, professional company events and incentive programs, sports teams awards and uniforms. Consider us a part of your creative planning team. We can take you from the idea stage right through to you holding the final product in your hand! It doesn't get any better than that. Contact us today and see what we have in store for YOU!


Please note that when inquiring about an order, or even placing an order, you will be contacted to verify final pricing, as some prices are subject to change prior to ordering.
Featured Item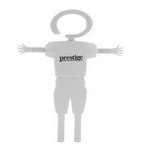 Buddy
Hang it to charge your phone. Hang it in your car while you drive. Hang it anywhere to listen to music. Hang it on your screen for multiple use. Hang it on your jeans! Holds your cell phone, GPS devic...
$3.99 - $4.99